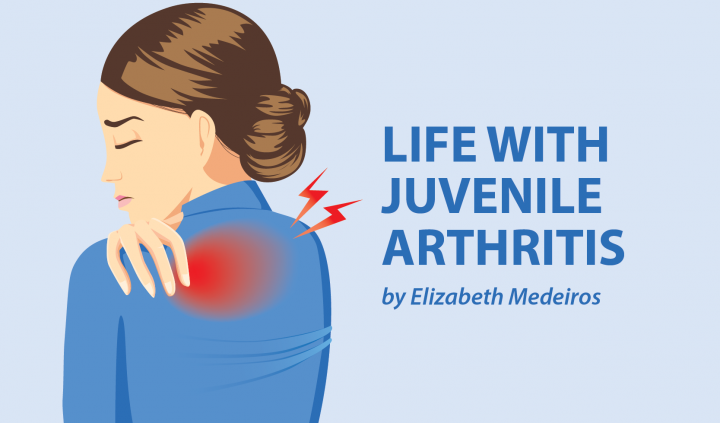 It wasn't the first time a medicine caused me to lose my appetite, nor would it be the last. It was summer vacation, and my friends had all just gotten their licenses. We planned adventures for almost every day. But as I began to lose more and more weight, I became weaker and tired easily. That didn't stop me from trying to keep up, though, because everywhere I went, I was complimented on my slim figure.
No one could get over how great Elizabeth looked, and that felt so good.
Juvenile arthritis symptoms and treatments can cause weight or appetite changes. Sometimes, steroids or a lack of exercise can cause kids to become overweight. The weight gain can be extremely emotionally taxing.
But weight loss can also be an issue. Medicine side effects can sometimes cause nausea, diarrhea, loss of appetite, and other issues that make it hard to eat or keep food down. Additionally, the desire to eat can disappear during a flare due to pain and fatigue.
There are many ways to deal with it, from switching medicines to adding supplements. But it often takes time to get the situation under control. Kids need time and emotional support to recover after losing significant amounts of weight.
Frustration
Dealing with weight loss is frustrating and scary. It is not easy to watch your child drop weight unintentionally, especially when it's being caused by vomiting or total appetite loss. But even more upsetting is when people compliment your child on how "good they look."
Sometimes, friends and family don't realize how serious weight loss can be. They may not realize that the weight loss was not intentional and is a health issue. While compliments aren't usually malicious in nature, they can leave a lasting impression.
Memories
Unfortunately, compliments left a lasting impression on me. The compliments stuck with me long after my medical issues had resolved. While a part of me knew that being underweight was harmful, another part of me liked it. I loved knowing that others thought I looked great.
Eventually, I achieved a normal weight again and the compliments stopped. But when I became underweight a few years later, I started receiving compliments again. It was a vicious cycle. For a while, I worked hard to stay just a few pounds above what is considered underweight for me.
Eating disorders
It is not easy to deal with weight, nor other people's reactions to it. It's especially unfair that it's caused by medical conditions. I'm thankful I never went through the body image issues many of my peers have. Due to the toll of weight loss (and weight gain) in juvenile arthritis, I know people who struggled with eating disorders.
Finding support
Both girls and boys can benefit from professional support. Therapy and support groups are helpful for kids and teens going through body image issues. Talking about how they feel openly and without judgment helps.
One last note
It felt good to be complimented on my figure. But you know what was better? When I was told "you look happy" or "you look healthy." Those meant a lot because for a long time, I didn't feel either. When you see your child feeling good, let them know you can see it. Let them know how happy they look and how proud you are of them. Compliments like that help to build the confidence your child needs.
***
Note: Juvenile Arthritis News is strictly a news and information website about the disease. It does not provide medical advice, diagnosis, or treatment. This content is not intended to be a substitute for professional medical advice, diagnosis, or treatment. Always seek the advice of your physician or other qualified health provider with any questions you may have regarding a medical condition. Never disregard professional medical advice or delay in seeking it because of something you have read on this website. The opinions expressed in this column are not those of Juvenile Arthritis News, or its parent company, BioNews Services, and are intended to spark discussion about issues pertaining to juvenile arthritis.
We are sorry that this post was not useful for you!
Let us improve this post!
Tell us how we can improve this post?