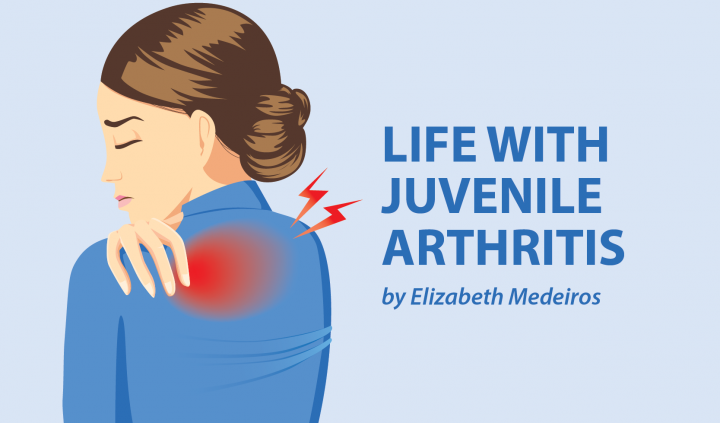 When I was small, I was used to telling others I had juvenile psoriatic arthritis. Then, around my teens, it felt weird to say; I wanted to be mature, not juvenile. By the time I got to college, I simply told people I had psoriatic arthritis. I thought it sounded silly to say I had JPsA, and at that point, I wasn't sure it was the right term anymore. Was it still juvenile? Did I graduate to adult psoriatic arthritis?
Becoming an adult with juvenile arthritis can be a confusing time. Unfortunately, there isn't much information on the internet or in books about adults with JA. But after research and years of experience, I finally found my answer: A child with juvenile arthritis becomes an adult with juvenile-onset arthritis.
What's it called?
It's impossible to "grow out" of having JA, though some young adults may go into remission. Rather, juvenile arthritis becomes juvenile-onset arthritis. Even though someone with JA will go on to see an adult rheumatologist, their disease doesn't "graduate" into another disease like rheumatoid arthritis.
What I say
Eventually, I began to say that I have psoriatic arthritis. Many of my friends went on to say they have rheumatoid arthritis. It was a little strange at first, but eventually saying I had PsA felt more appropriate. However, I always tell any healthcare professional that my arthritis is juvenile-onset. Even though it's convenient to say "psoriatic arthritis," my body will always show signs of a disease that started as a child.
Considerations
While juvenile-onset arthritis and adult rheumatoid arthritis can be similar, they're ultimately different. Studies suggest that adults with JA may not fit the criteria for an adult RA diagnosis. What's more, a patient who grew up with JA may also show signs of issues with growth or bone development. For these reasons, among others, I recommend trying to find a rheumatologist who specializes in young adults with arthritis.
The future
When I was growing up, not a lot of research existed about long-term outcomes of juvenile arthritis. I ended up reading a lot about adult onset arthritis to learn more, even though I knew it may not have been too accurate for me. Now, as a young woman, I wonder how having juvenile-onset arthritis will affect my ability to have children later on. Thankfully, more research is being published. Plus, thanks to better treatments being developed, the future has never been brighter for young people with JA.
***
Note: Juvenile Arthritis News is strictly a news and information website about the disease. It does not provide medical advice, diagnosis, or treatment. This content is not intended to be a substitute for professional medical advice, diagnosis, or treatment. Always seek the advice of your physician or other qualified health provider with any questions you may have regarding a medical condition. Never disregard professional medical advice or delay in seeking it because of something you have read on this website. The opinions expressed in this column are not those of Juvenile Arthritis News, or its parent company, BioNews Services, and are intended to spark discussion about issues pertaining to juvenile arthritis.
We are sorry that this post was not useful for you!
Let us improve this post!
Tell us how we can improve this post?