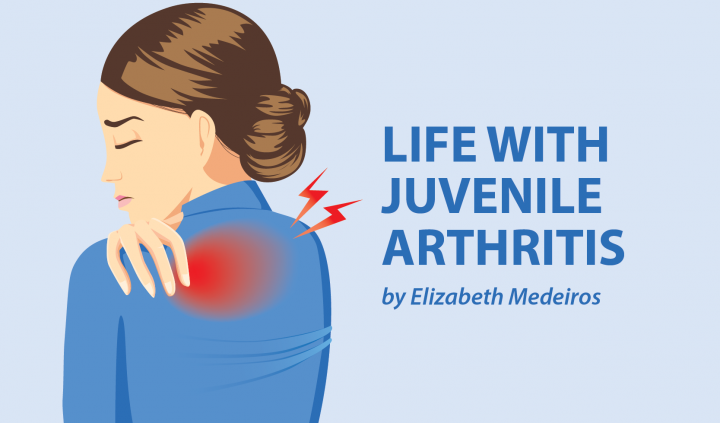 The best sleep you will ever have is the one after a long day of playing outside. I remember falling asleep at age 10 after a fun day of playing games and taking in the sun. My mind buzzed as I thought of all the things we had done that day, and I planned for the next day to be even better. But when I woke up, my back and hips were killing me. I realized I'd overdone it the day before, and my juvenile arthritis was telling me I needed a day of rest.
In my experience, kids with juvenile arthritis need a good combination of indoor and outdoor play during the summer. Some children may even need to minimize their time outdoors due to sun sensitivity. I had plenty of days where I played nonstop under the sun, but I also had my fair share of days inside to rest or hide from the sun. But just because a child may need to rest or slow down, doesn't mean their summer fun needs to stop! The following are fun ideas for kids with JA at every activity level.
Rest days: slime
Every parent knows what slime is — and it may be banned from the house for being too messy. But think twice before you completely ban it. Many rheumatologists encourage children to play with things like Theraputty, squeeze balls, and other toys that get their hands working. Slime is a popular (and sometimes gross) way to get children to get their hands moving. Play-Doh and Silly Putty are also good alternatives (but without the fun and mess of DIY slime). That said, if your child's rheumatologist suggests the use of Theraputty with a certain strength for your child, slime is not a proper alternative.
Somewhat restful day: building
What child doesn't love to build? Whether it's Lego castles or pillow forts, kids are always finding ways to create. K'NEX, Lego, and Erector Sets are great ways to get your child to improve their dexterity, especially if that's something they struggle with. I tended to like the lesser known brands because sometimes the pieces were a little larger.
Larger structures can get your child up and moving. When I was small, I loved building a small pillow fort or pitching my Barbie tent in the living room. Not only did it keep me busy, but I had a nice resting place for the rest of the afternoon.
The best part is these activities keep kids busy, and they don't realize the physical benefits. Instead, they're so focused on perfecting their creation, and they feel proud once finished.
Somewhat active days: Pokemon Go
While most parents want to limit their child's screen time during the summer, I'd argue that Pokemon Go isn't the worst game for them. The game requires the player to walk around their environment, which can inspire adventures with friends or a walk around the block. Exercise is important for managing juvenile arthritis, and anything that encourages your child to be active is positive.
The game allows you to go at your own pace, and walking is rewarded with candies, finding new characters, and other things. Using the augmented reality setting, your child may have to reach and bend to catch a Pokemon. It's a great way to keep moving. While it's certainly not a game to play all the time, it's a fun way to inspire your child to be active on a lazier day.
Active days: bicycles
As a child, I might not have been able to keep up with the neighborhood kids on foot, but I was their equal when I was on my bike. I spent entire summers on my bike riding up and down hills with the other kids. The countless hours I spent on my bike not only made me feel free but also improved my strength and endurance. The low-impact and non-weight bearing exercise of bike riding is ideal for both kids and adults with arthritis.
Of course, it's important to make sure you find the right kind of bike for your child. One that's too big or too small can cause strain on the joints. It can also be helpful to swap the seat for one with more cushion, especially if your child has issues with their hips like I do. And, of course, always wear a helmet and proper shoes.
Adapt
Juvenile arthritis can be unpredictable, but it shouldn't suck the fun out of the summer break. When JA rears its ugly head, it can be helpful to make activities a little exciting for your child. Make a day in bed into "Disney Movie Marathon Day," or treat your child to a board game in bed. The best thing you can do for your child is to be always prepared to adapt with a positive attitude. Over time, they're not going to remember the disappointment of being unable to do what they originally wanted to; they'll remember the spontaneous fun they had with you.
***
Note: Juvenile Arthritis News is strictly a news and information website about the disease. It does not provide medical advice, diagnosis, or treatment. This content is not intended to be a substitute for professional medical advice, diagnosis, or treatment. Always seek the advice of your physician or other qualified health provider with any questions you may have regarding a medical condition. Never disregard professional medical advice or delay in seeking it because of something you have read on this website. The opinions expressed in this column are not those of Juvenile Arthritis News, or its parent company, BioNews Services, and are intended to spark discussion about issues pertaining to juvenile arthritis.
We are sorry that this post was not useful for you!
Let us improve this post!
Tell us how we can improve this post?