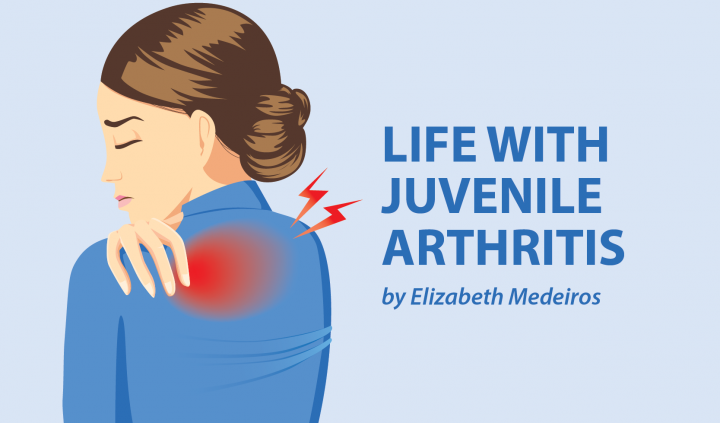 At age 19, a doctor told me I was on the road to osteoporosis. My jaw dropped. My pediatric rheumatologist never talked about my bone health, let alone mentioned that my bones were thinning. But my new adult rheumatologist pointed at X-rays that showed evidence of bone loss.
Of all the things I talked about with my pediatric rheumatologist, I wish my bone health was one of them. At the time, it was something that never crossed the minds of my mom and me. I never struggled with growth, and while I was beginning to develop a slouch, we chalked it up to back pain. Bone health was something to worry about in my 50s, not my teens. Unfortunately, I was one of many kids with JA who struggle with bone density, and I didn't even know it.
Factors for bone loss
Low bone density is something that many adults and children with autoimmune disorders struggle with. Chronic inflammation simply isn't good for the body, and the bones often suffer from it. But other factors play a part in this, too. Treatment with steroids, which is common for juvenile arthritis, can cause bones' thinning, as can a sedentary lifestyle. It's also not uncommon for kids with JA to struggle with vitamin deficiencies, especially vitamin D.
Start early
I beg any parent of a child with JA to talk to their child's rheumatologist about taking steps to preserve their bone health. While some may think it's a topic that doesn't need addressing until later in life, you can never start taking care of your bones too soon. In fact, the teen years are a crucial time for developing the bone density that will carry you for the rest of your life.
Thankfully, there are many things we can do to support bone growth. Many children with JA are prescribed vitamin D supplements to support bone health, but our vitamin intake shouldn't stop there. Having a diet rich in vitamin D, calcium, vitamin K, and other minerals also helps tremendously. While you might have a picky eater, there are plenty of kid-friendly foods that support bone health, including almond butter, yogurt, oranges and orange juice, dairy and non-dairy milk, fortified breakfast cereals, and eggs. Exercise is also critical, but you should talk to your child's rheumatologist before beginning any exercise program.
An ounce of prevention
Even though I was an adult when I found out about my bones thinning, I was very fortunate. While bone density peaks in our 20s, I have a lifetime to care for my bones and attempt to maintain my current bone density. Unfortunately, many of my friends who grew up with JA found out in their 20s and 30s that they have severe bone loss. But an ounce of prevention is always better than a pound of cure. The best thing you can do for your child with JA is to help them care for their bones. They'll thank you later.
***
Note: Juvenile Arthritis News is strictly a news and information website about the disease. It does not provide medical advice, diagnosis, or treatment. This content is not intended to be a substitute for professional medical advice, diagnosis, or treatment. Always seek the advice of your physician or other qualified health provider with any questions you may have regarding a medical condition. Never disregard professional medical advice or delay in seeking it because of something you have read on this website. The opinions expressed in this column are not those of Juvenile Arthritis News, or its parent company, BioNews Services, and are intended to spark discussion about issues pertaining to juvenile arthritis.
We are sorry that this post was not useful for you!
Let us improve this post!
Tell us how we can improve this post?