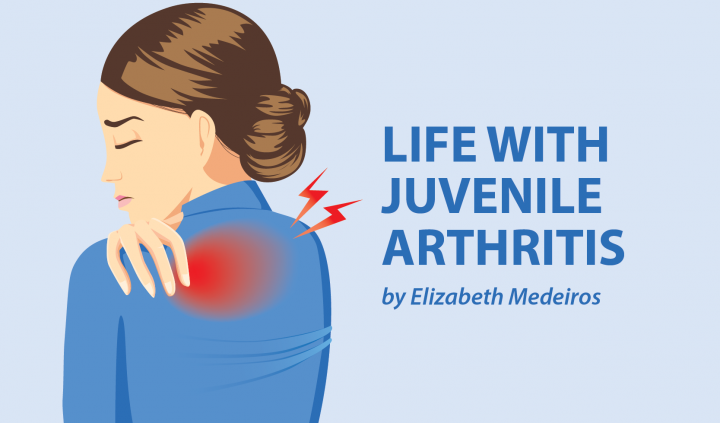 Over the years, I've noticed that diseases sometimes "collect." It seems like you never can have just one issue, especially if you initially started with an autoimmune disease. Sometimes it feels like you can't catch a break.
Sometimes kids with juvenile arthritis experience this phenomenon, too. Whether it's genetics or inflammation effects, many kids with JA will develop other health issues. While every person's health is different, I've noticed that psoriasis, uveitis, and depression seem common among kids with juvenile arthritis.
Psoriasis
Around 6 percent of kids with juvenile arthritis deal with juvenile psoriatic arthritis (JPsA). Psoriasis is an autoimmune disorder that causes skin cells to mature too quickly, causing lesions and redness. It's often very itchy and can be painful. Sometimes, it also causes the nails to become thick and pitted. About half the time, arthritis symptoms will develop before psoriasis.
Thankfully, many of the treatments used for JA also work for psoriasis.
Not every child with juvenile arthritis, or even juvenile psoriatic arthritis, will develop psoriasis. Psoriasis symptoms are indicative of JPsA, but they're not the only way a diagnosis can be made. For example, my diagnosis is based on family history, the way my joints are affected, and issues with my nails.
Uveitis
Uveitis is inflammation of the middle layer of the eye. It can strike quickly and without warning, causing blurry vision, redness, and pain. Unfortunately, it is the most common nonjoint-related complication of JA.
Parents always should be on the watch for eye issues. But more importantly, kids should be seen by an ophthalmologist regularly because symptoms may not be present early on. Growing up, I had many friends with JA who dealt with this scary issue. Thanks to frequent eye exams, most got the treatment they needed early and avoided irreversible damage. Unfortunately, I also know people who are dealing with permanent vision issues without early treatment.
Depression
Many kids and teens with arthritis deal with depression and anxiety. It's not hard to see why, as many deal with chronic pain, limited mobility, and side effects from medicines. However, people often dismiss depression as something fixed by "looking on the bright side."
This issue, like the other two on this list, needs to be treated properly. It's so easy to dismiss your child and tell them they need to be more positive, but that's not going to fix anything. Many kids benefit from therapy, support groups, and support from loved ones.
The bottom line
Lots of people believe juvenile arthritis begins and ends with joint pain, but it's so much more than that. Some kids deal with multiple issues and other kids deal with none. Parents, always monitor your child with JA's health closely. It's worth it to keep an eye out and get early treatment for anything cropping up, and it saves a lot of pain later on.
***
Note: Juvenile Arthritis News is strictly a news and information website about the disease. It does not provide medical advice, diagnosis, or treatment. This content is not intended to be a substitute for professional medical advice, diagnosis, or treatment. Always seek the advice of your physician or other qualified health provider with any questions you may have regarding a medical condition. Never disregard professional medical advice or delay in seeking it because of something you have read on this website. The opinions expressed in this column are not those of Juvenile Arthritis News, or its parent company, BioNews Services, and are intended to spark discussion about issues pertaining to juvenile arthritis.
We are sorry that this post was not useful for you!
Let us improve this post!
Tell us how we can improve this post?