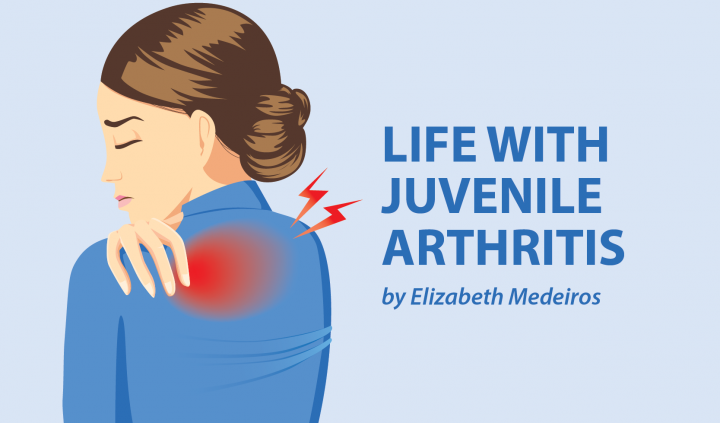 "It's just arthritis."
Oh man, that statement always hurt.
As a child, it was enough to make my blood boil. And even as a young adult, I still have to restrain myself. It's just arthritis? Are you kidding me? Since I was small, I wished there was a way to let others feel my pain firsthand so they'd understand it's not just arthritis. But over the years, I've learned to shrug it off.
However, to this day, that statement outrages my mother.
To you, I may look like a girl with a bum knee. But she sees me at my worse. My mum is the one who cared for me when I was in intense pain just from going to school. She is the one who took me to the children's hospital monthly for rheumatology visits. She sat with me in ERs when the pain and fevers were too intense to nurse at home and took leave from work when I developed severe complications from a juvenile arthritis treatment.
My mum saw the harsh reality of juvenile arthritis. It is not, and never will be, "just" arthritis.
It is a parent's instinct to protect their child from harm and pain, but you can only do so much when your child is chronically ill. It is so disheartening when no amount of cuddles, love, and children's pain reliever can fix everything. Parenting a child with chronic pain is not for the faint of heart.
Take care of your heart
JA parents, what you are going through is not easy. But it is important not to neglect yourself. You are your child's rock, and you need to take care of yourself in order to be strong for them. Do not neglect yourself physically, emotionally, or mentally.
Please, take care of your heart. While I constantly suggest counseling for kids with JA, consider it for yourself, too. It's amazing how much it can help. Or, consider becoming more involved with the Arthritis Foundation, where you can meet other families. Becoming friends with other JA mothers gave my mum a lot of comfort and peace. She came away from phone conversations and emails feeling less alone.
Help family, friends, and teachers understand. You may like to send them online articles and columns about JA to help them gain more insight. Many people become more compassionate once they get an idea of how serious the situation is.
Also, do your best not to consult Dr. Google. Especially late at night and from untrustworthy sites. If you must search, turn to places like the Arthritis Foundation, the National Psoriasis Foundation, most hospital websites, and other accredited websites. They may not have the level of detail you are searching for, but it's better than being fed scary, inaccurate information.
JA parents …
This is not easy. It is OK to get mad when others don't understand why JA is so serious. There are so many times it will feel as if it's the world against your family. But I promise you are not alone. Many families out there are going through the same thing. Please, reach out to them. As my mum once put it, they easily become your second family.
***
Note: Juvenile Arthritis News is strictly a news and information website about the disease. It does not provide medical advice, diagnosis, or treatment. This content is not intended to be a substitute for professional medical advice, diagnosis, or treatment. Always seek the advice of your physician or other qualified health provider with any questions you may have regarding a medical condition. Never disregard professional medical advice or delay in seeking it because of something you have read on this website. The opinions expressed in this column are not those of Juvenile Arthritis News, or its parent company, BioNews Services, and are intended to spark discussion about issues pertaining to juvenile arthritis.
We are sorry that this post was not useful for you!
Let us improve this post!
Tell us how we can improve this post?