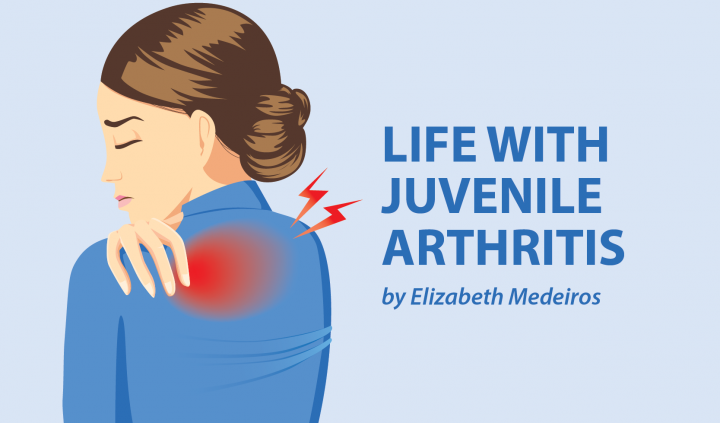 Most people are surprised to learn I've dealt with juvenile arthritis since I was 18 months old. But it's a harsh reality that many children are diagnosed with JA at extremely young ages. It's hard to imagine such a small, innocent child already dealing with chronic pain. It's tempting to try to protect them from every ache and pain.
Young children with JA, particularly when they start school, need to learn many lessons their peers don't. They need help learning to balance activity with rest. Peer pressure can make it tempting for even small kids to push beyond their limits. On the flip side, kids may be unwilling to do certain activities because JA causes fatigue or clumsiness. But with encouragement and support, parents can help their children learn to be their own advocate.
Learn to rest
It's been noted that small children with JA don't always complain of pain. Normally, they'll exhibit changes such as becoming short or appearing lethargic. While it's not always true, this is what happened to me. I grew up thinking that chronic pain is normal, so I didn't complain and just dealt with it. There were times I pushed myself to keep up with my peers, even though I was limping and slower than the others.
The best thing parents can do is to help their children learn to identify when they need to rest. When you notice them limping, ask how they are feeling. Even if they say "OK," suggest it's a good time to take a break. During special events, when my pain was bad and was straining to keep up and join in the fun, my mum would intervene. She would direct the group of rowdy cousins for a snack or to settle down for a movie. It was a better solution than dragging me away from the fun and making me feel "different" from the others. Eventually, I learned how to do this myself, but I wouldn't have known it was OK to take a break if it wasn't for my mum setting the example.
Let them 'help'
Like many other children with JA, I'm extremely clumsy. Since I was small, I've dropped many things, tripped constantly, and knocked over many things. Mixing my clumsiness with chronic fatigue usually means I'm unintentionally sloppy when doing chores. It can be frustrating for parents, but it's extremely frustrating for the child. It's easy for them to feel like they can't do anything right, especially when they're told they've done a bad job or are told to stop helping.
My biggest advice is to just let your child help, and start early on. It will be sloppy, perhaps sloppier than what you expect for a child their age, and you will probably have to redo the work. But please don't let that discourage you, instead, encourage them and give pointers. Getting your child used to chores early will help their confidence in completing tasks later on.
Independence
It's tempting to put your child in a bubble. But independent adults start out as children who are allowed to have their own experiences. Your child with arthritis may struggle with things, and that's OK. What's important is letting them try, and taking it from there. Peewee soccer may be out of the question for some children, but what about T-ball, swimming, or karate? As a very unathletic child, I was signed up for choir, art club, and other fun activities. There are always ways to give your child freedom to learn on their own, it's just a matter of finding what suits them best.
Support
It's heartbreaking to watch a small child cope with pain. The best thing a parent can do for their child is to be there for them. Whether it's transitioning an activity to something gentler so your child can rest or watching from the sidelines, being there for them makes all the difference. Being a child in pain was scary at times, but it was so much easier knowing my mum was there if I needed her help.
***
Note: Juvenile Arthritis News is strictly a news and information website about the disease. It does not provide medical advice, diagnosis, or treatment. This content is not intended to be a substitute for professional medical advice, diagnosis, or treatment. Always seek the advice of your physician or other qualified health provider with any questions you may have regarding a medical condition. Never disregard professional medical advice or delay in seeking it because of something you have read on this website. The opinions expressed in this column are not those of Juvenile Arthritis News, or its parent company, BioNews Services, and are intended to spark discussion about issues pertaining to juvenile arthritis.
We are sorry that this post was not useful for you!
Let us improve this post!
Tell us how we can improve this post?