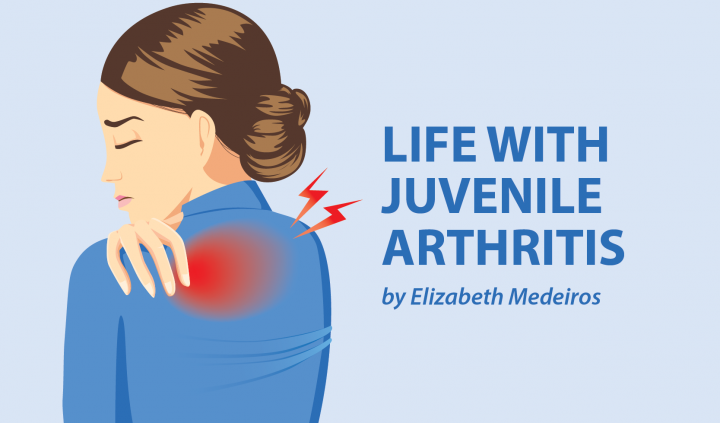 It was an overcast day in May, and my fourth-grade class was brought to an outdoor track to run laps. Almost as soon as the whistle blew, I was on the ground. Somehow, I'd managed to trip over my own feet. The gym teacher rolled her eyes and began to walk slowly toward me.
Tears pooled in my eyes, and I looked down at my hands. They had blocked the fall, causing them to burn and throb with pain. "Again?" my teacher asked in an irritated tone while looking down at me.
I suspect that back then I had a reputation as a crybaby. While I didn't whine or throw tantrums to get my way, I cried when I got hurt (which was often). I also noticed that other kids tended to recover faster than I did. For a long time, I assumed I had a low pain tolerance and needed to toughen up. But it's only now as an adult that I realize my many injuries and extra pain weren't in my head: They were due to my juvenile arthritis.
Clumsiness
A commonly noted symptom of JA is clumsiness, which is usually caused by joint stiffness, especially after periods of inactivity. However, it can also occur for other reasons, including muscle weakness or fatigue. As a kid, I often tripped, fell, and bumped into things simply because my body wasn't moving as well as it should have been.
Injuries
Even as an adult, I still get hurt occasionally, due to my arthritis-related clumsiness. And sometimes, the trauma will cause a flare. I recently had a small back flare caused by getting whacked with a door. Once when I was younger, I accidentally gave myself an overuse injury from kicking a soccer ball with my left leg for hours. The result was a hip flare that lasted a few weeks. Many of my friends have had injuries that aggravated their joints, from something as simple as stubbing a toe, or as traumatic as a car accident.
Have no fear
While it's impossible to live in a world without accidents, good sports practices will help most children to prevent injuries. These include simple precautions, such as stretching before and after exercise and making sure not to overuse joints.
Your child's pediatric rheumatologist may also advise against high-impact sports, but this varies from child to child. I participated in activities like swimming, biking, and hiking, and we also played a lot of games like badminton, whiffle ball, and kickball (using a light rubber ball) in the grass.
Wearing proper shoes also helped to prevent a lot of injuries. I did sometimes roll an ankle because I was wearing an unsupportive shoe, such as a flip-flop or ballet flat. Even though they weren't always fashionable, I saved myself a lot of pain by wearing sneakers, well-made sandals, and boots. When I was going to special events, I would bring two pairs of shoes — dressy shoes for pictures, and comfortable shoes for dancing, games, and walking.
Accidents will happen
Life happens. There will probably be times when JA causes your child to be a little clumsy. There's no need to be afraid! Just be vigilant. If the injury occurs near a problem joint, it's good practice to treat it with ice and call the pediatric rheumatologist at the first sign of trouble. And of course, remind the adults and children in your life that your child has juvenile arthritis, that falls and bumps may hurt them a little bit more, and they might need some time to bounce back. A little kindness and patience go a long way for a child living with chronic pain.
***
Note: Juvenile Arthritis News is strictly a news and information website about the disease. It does not provide medical advice, diagnosis, or treatment. This content is not intended to be a substitute for professional medical advice, diagnosis, or treatment. Always seek the advice of your physician or other qualified health provider with any questions you may have regarding a medical condition. Never disregard professional medical advice or delay in seeking it because of something you have read on this website. The opinions expressed in this column are not those of Juvenile Arthritis News, or its parent company, BioNews Services, and are intended to spark discussion about issues pertaining to juvenile arthritis.
We are sorry that this post was not useful for you!
Let us improve this post!
Tell us how we can improve this post?