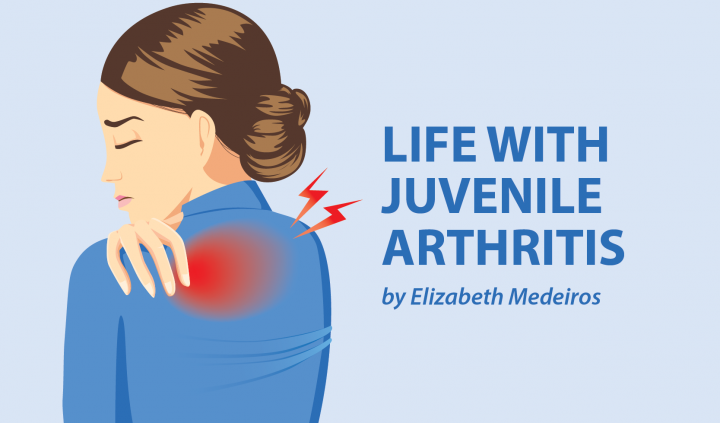 Dear teacher,
This year, you'll have a student who has juvenile arthritis (JA). You may be surprised because "kids aren't supposed to get arthritis." You may wonder if it's just an excuse to get out of gym class. But it's so much more than that. JA is a term that classifies many types of chronic, painful, and inflammatory disorders that occur in children.
Juvenile arthritis is not "one-size-fits-all." It comes in many forms. Juvenile lupus, fibromyalgia, scleroderma, psoriatic arthritis, and mixed connective tissue disease are just a few of the many types of JA. You may be picturing a child who hobbles like an old man, but that is so far from the truth. Yes, many kids struggle with their joints. But many face other challenges: psoriasis, eye inflammation, fevers, fatigue, inflammation of vital organs, and many other symptoms.
Many of these children take powerful medications to control the inflammation, often in the form of weekly injections. Treatment goes well beyond ibuprofen; many even take medicines that suppress their immune system. While kids benefit from these medicines, they may also have intense side effects such as fatigue, bloating, and mouth ulcers.
Hiding the pain
Please understand that arthritis for a child is different than arthritis associated with adults. Children with arthritis face many challenges that others do not realize. JA is a hidden disability, so while the world may see a happy, smiling child, that student may go home drained, irritated, and in pain. Just because they seem fine in the classroom doesn't mean that nothing is wrong; they may not be in pain at that moment, or they are pushing past the pain yet again.
It takes a village
For parents, it's hard not to worry about their child while they are at school. It's even harder when they're chronically ill. One can't help but worry they're suffering in silence for one reason or another. Did the gym teacher push them too hard? Did someone tease them for their swollen knees? Are they falling behind in class due to fatigue?
That's why we need teachers to be informed about juvenile arthritis. Most people don't want their child babied or treated specially, but we do hope teachers will look out for their chronically ill students. We pray that you'll help kids with arthritis reach their potential, and help them feel supported.
How to help
There are so many ways teachers can help their students with JA. While many students will receive accommodations, such as extra time to write exams, it helps when teachers are on board and are sympathetic to why their student needs help. Be patient with the student who needs a few extra minutes to travel between classes, even if they miss the first minute of a lesson. They need it.
But also, please help students feel included. Kids with JA appreciate when there aren't too many activities that involve physical activity, which can be painful or even embarrassing (some kids with JA are clumsy). If your student needs breaks to get up to walk, maybe have the whole class get up for a quick walk around the room so they don't feel self-conscious. It's the little things that make a big difference.
Teachers make such a difference in the lives of their students. Many adults who grow up with arthritis look back fondly on the teachers who went out of their way to help them. We never forget the teacher who didn't make you carry textbooks every day, nor do we forget the teacher who asked you, "How are you feeling?" It's the little things that make a lifelong impact.
***
Note: Juvenile Arthritis News is strictly a news and information website about the disease. It does not provide medical advice, diagnosis, or treatment. This content is not intended to be a substitute for professional medical advice, diagnosis, or treatment. Always seek the advice of your physician or other qualified health provider with any questions you may have regarding a medical condition. Never disregard professional medical advice or delay in seeking it because of something you have read on this website. The opinions expressed in this column are not those of Juvenile Arthritis News, or its parent company, BioNews Services, and are intended to spark discussion about issues pertaining to juvenile arthritis.
We are sorry that this post was not useful for you!
Let us improve this post!
Tell us how we can improve this post?