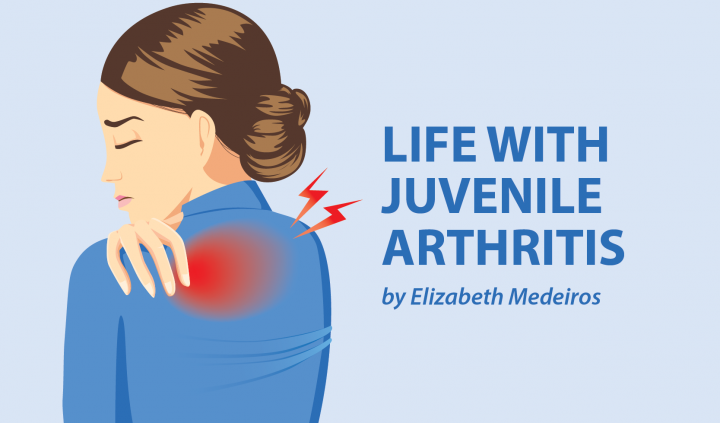 Despite being a scaredy-cat, I loved Halloween when I was little. My favorite parts were painting pumpkins and making costumes. Some years I struggled to go trick-or-treating because my juvenile arthritis was flaring. It can be hard to walk door-to-door all night when you feel achy and tired.
Halloween only comes once a year, and no child should miss out on the joys of trick-or-treating with friends. Over the years, my mum and I found some ways to make the experience more manageable. And while they may not sound incredibly fun to kids, parents might find the following tips help make Halloween less painful:
On Halloween day
A few trick-or-treating preparations can make the evening go smoothly. For example, giving your child pain medicine before they go out can help, as can applying ice packs or heating pads to troublesome joints. While your child is likely to protest, well-made shoes with orthotics will be less painful than princess slippers. You may also consider bringing a stroller or wagon for your child to ride in if they're flaring. Getting into the spirit and decorating it to match your child's costume makes it more fun!
During trick-or-treating
Trick-or-treating means a long walk for a few hours and can be exhausting for a kid who already has had a full day of school. Children often race from door to door, but a kid with JA may not feel up to running around, especially if they're tired or in pain. They may feel left out and choose to hang back instead of keeping up with their friends.
It's a good idea to remind all of the kids in your child's trick-or-treat group to walk instead of run. While walking is a safety measure all children should follow on Halloween night, it has the added benefit of keeping your child's friends to a manageable pace. As a kid, I appreciated the adults rounding up the kids and asking them to walk instead of running to the next house. While my joints were usually tired by the end of the night, I was happy I got to spend time with my friends.
However, if your child appears to be hurting, you should consider asking them privately if they'd like to head home early. They'll probably say no because they want to have fun with friends, but let them know the offer is on the table. I was comforted to know I had the option to head home if I needed to. Besides, going home wasn't the end of the fun: My parents and I would stop at a few houses on the way back, and we'd finish the night by watching movies together.
The day after
Some kids with JA may not struggle at all on Halloween — they might even be the ones running around with excitement. But your child may be extra sore, stiff, and tired when you get home and on the following day.
My post-trick-or-treating routine included a warm bath and a movie on the couch. The next day was a day of rest, especially if Halloween fell on a weekend. I'd invite friends over for a movie marathon, and we'd swap candy. Or my mum and I would do quiet activities together.
Kids with JA shouldn't have to miss out on trick-or-treating. A little preparation and TLC go a long way toward helping kids make it through the night. My memories of having fun with friends and family members far outnumber any memories of achy joints.
***
Note: Juvenile Arthritis News is strictly a news and information website about the disease. It does not provide medical advice, diagnosis, or treatment. This content is not intended to be a substitute for professional medical advice, diagnosis, or treatment. Always seek the advice of your physician or other qualified health provider with any questions you may have regarding a medical condition. Never disregard professional medical advice or delay in seeking it because of something you have read on this website. The opinions expressed in this column are not those of Juvenile Arthritis News, or its parent company, BioNews Services, and are intended to spark discussion about issues pertaining to juvenile arthritis.
We are sorry that this post was not useful for you!
Let us improve this post!
Tell us how we can improve this post?