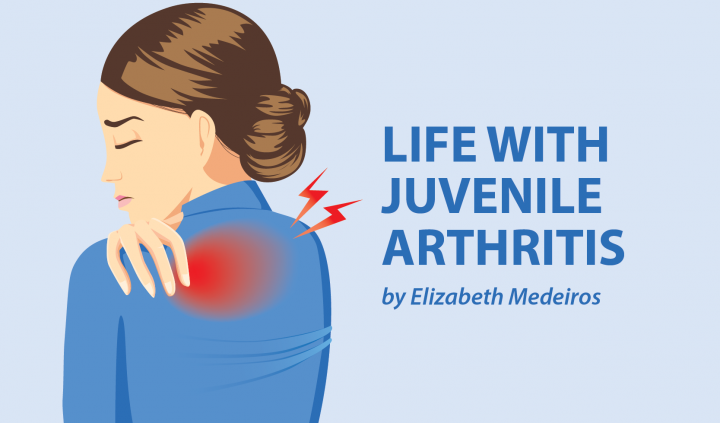 For years, my mum sought answers to why her child was limping and experiencing pain. Specialist after specialist brushed her off, blaming growing pains and a weak child. After years of seeking answers, she found a doctor who didn't instantly dismiss my case, and I was diagnosed with juvenile arthritis. While it was validating on one hand, it was also heartbreaking.
No parent wants their child to be in pain, which makes a diagnosis of juvenile arthritis particularly painful. While the road to diagnosis is different for every family, many feel similar emotions. I know for my family and others I've talked to, feeling overwhelmed, along with grief and relief, were prominent.
Overwhelmed
A diagnosis of juvenile arthritis can turn your life upside down. It may even feel like it's taking over your family's life, especially when your schedule starts revolving around medicines, doctor's appointments, physical therapy, and lab tests. Google searches may overwhelm you with way more information than you could ever want, yet still leaving you without answers. You may feel alone and in over your head.
It's OK to feel stressed and overwhelmed. A disease like JA demands a lot of time and attention, and it takes a bit to learn to balance your child's health needs with other things. But reading columns like mine, taking in information from reliable sources, and contacting your local arthritis foundation are great first steps in taking control. So is keeping a normal-as-possible schedule for your child, who will benefit from the security of their routine.
It can also help to track your child's condition in a journal. While you can't dictate what JA will do next, you might feel a little more in control of the situation when you do your best to track your child's progress. In the same journal, make sure to write any questions you may have about JA: Your child's doctor is a much better resource than Dr. Google.
Grief
It's natural to feel mournful at the time of diagnosis, and periodically afterward. A diagnosis of JA can feel like a life sentence of chronic pain, and that's not easy to cope with. You might feel upset that their childhood is interrupted, and that their future won't be as bright.
Admittedly, I sometimes still grieve that I was not a healthy child. I think it's normal to feel upset over the loss of health and the onset of pain, especially during flares. But life did go on, and my family and I learned to cope. My childhood with JA was still a happy one, filled with great memories and experiences.
Having support from the Arthritis Foundation and the National Psoriasis Foundation helped with the grieving process. Juvenile Arthritis Camp was particularly inspiring because some of the counselors grew up with JA. My friends from camp all went on to get an education, start careers, get married, and start families — all inspired, knowing that a future with JA was possible.
Relief
Sometimes it can take a while to be diagnosed. It's not uncommon for doctors to tell parents that their child is being dramatic or has growing pains. So, when your child does receive a diagnosis, it's natural and even healthy to feel relief.
It's not easy to face the world with an invisible illness, and validation is a step toward healing. Knowing that someone who can help is taking you seriously is significant. And while it might be a long road toward healing, it marks the beginning of a positive change.
***
Note: Juvenile Arthritis News is strictly a news and information website about the disease. It does not provide medical advice, diagnosis, or treatment. This content is not intended to be a substitute for professional medical advice, diagnosis, or treatment. Always seek the advice of your physician or other qualified health provider with any questions you may have regarding a medical condition. Never disregard professional medical advice or delay in seeking it because of something you have read on this website. The opinions expressed in this column are not those of Juvenile Arthritis News, or its parent company, BioNews Services, and are intended to spark discussion about issues pertaining to juvenile arthritis.
We are sorry that this post was not useful for you!
Let us improve this post!
Tell us how we can improve this post?